MEDICAL
Cantel's Medical Business Unit has been a technology innovator of life-impacting solutions for over 40 years. Under the MEDIVATORS brand, we provide a Complete Circle of Protection through a comprehensive offering in two critical areas: endoscope reprocessing and endoscopy procedure products. Our endoscope reprocessing portfolio includes a full range of automated endoscope reprocessing (AER) systems, high-level disinfectants and sterilants, detergents, leak testing and manual cleaning products, drying and storage cabinets, endoscope process tracking, and related consumables, accessories and supplies.
Customers are at the heart of everything we do. We strive to develop direct and open relationships that foster honest feedback. Thousands of hours are spent to observe endoscopy workflow at facilities - by seeing and touching what customers actually experience, we are able to design the products and solutions that endoscopy departments really need. We have spent years crafting the perfect blend of innovative technologies and superior services. And our exciting list of future technologies targets physicians, nurses, and technicians alike. Creating safer endoscopy environments has been, and will always be our true passion.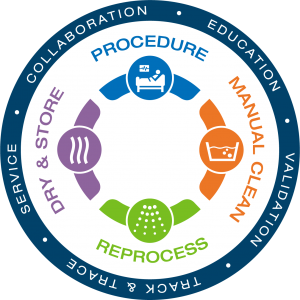 ---
Introducing Scope Buddy™ Plus Endoscope Flushing Aid
A REVOLUTIONARY SOLUTION TO AN EVOLUTIONARY PROCESS
Detergent Dosing & Temperature Monitoring
24-Hour Multi-Use Disposable Tubing
Aspiration Step for Olympus® Endoscopes
Track & Trace Dashboard
---
Procedure
Reducing the risk of patient cross contamination is at the forefront of infection prevention. Cantel innovates infection control products designed to improve patient outcomes, while increasing procedural efficiency.
---
Manual Clean
Manual cleaning is essential in removing bioburden and preparing the endoscope for high-level disinfection. For optimal results, Cantel's manual cleaning products and detergents are designed to be a critical first step to efficiently and effectively eliminating bacteria on endoscopes prior to reprocessing.
---
Reprocess
High-level disinfection is the cornerstone of infection prevention. Reprocessing technologies from Cantel are designed to ensure patient safety by adhering to the strictest of standards for high-level disinfection, optimizing workflow efficiency, and delivering versatility by supporting a wide range of endoscopes and medical devices.
---
Dry & Store
Bacteria pose significant risk to endoscopes during endoscope storage. Cantel's transport, drying and storage solutions are designed to protect valuable inventory, reduce cross contamination touchpoints, eliminate moisture in the endoscope channels and control humidity. Higher humidity or moisture in endoscope channels is known to aid bacterial growth.
---
For more information, please visit www.medivators.com (please note some listed products may not be available in Canada).