DENTAL & ACUTE CARE
Cantel's Dental & Acute Care Business Unit, Crosstex, manufactures a wide array of unique and innovative infection prevention and compliance products for the global healthcare industry and has been a recognized leader and trusted provider for over 65 years. We are dedicated to providing clinical education to ensure our customers are updated with the latest guidelines and best practices.
Crosstex is a recognized leader for its portfolio of waterline treatment, biological monitoring, sterility assurance packaging and personal protection equipment (PPE). Sold in more than 100 countries, the range of products distributed to medical, dental, industrial and veterinary practices and facilities include the award-winning (for 5 consecutive years) Secure Fit technology face masks, DentaPure waterline treatment cartridges, Sure-Check sterilization pouches with internal/external multi-parameter indicators, Tyvek pouches, SteamPlus Type 5 chemical integrators, and ConFirm in-office biological indicators.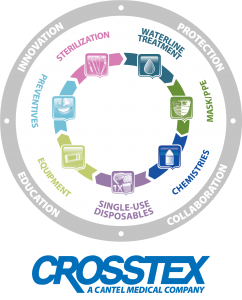 ---
Dental
Our single-use, infection prevention and control products are used principally in the dental market. Products include face masks, sterilization pouches, towels and bibs, tray covers, saliva ejectors, germicidal wipes, plastic cups and disinfectants.
---
Medical
We diversified the product portfolio to more healthcare facilities by introducing sterilization pouches, biological monitoring and chemical indicators.
---
For more information, please visit www.crosstex.com (please note some listed products are not available in Canada).