DENTAL & ACUTE CARE
Cantel's Dental & Acute Care Business Unit, Crosstex, manufactures a wide array of unique and innovative infection prevention and compliance products for the global healthcare industry and has been a recognized leader and trusted provider for over 65 years. We are dedicated to providing clinical education to ensure our customers are updated with the latest guidelines and best practices.
Crosstex is a recognized leader for its portfolio of waterline treatment, biological monitoring, sterility assurance packaging and personal protection equipment (PPE). Sold in more than 100 countries, the range of products distributed to medical, dental, industrial and veterinary practices and facilities include the award-winning (for 5 consecutive years) Secure Fit technology face masks, DentaPure waterline treatment cartridges, Sure-Check sterilization pouches with internal/external multi-parameter indicators, Tyvek pouches, SteamPlus Type 5 chemical integrators, and ConFirm in-office biological indicators.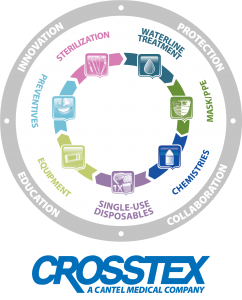 ---
Meet Vistacool™ Direct-To-Drain Cooling System for Autoclave Wastewater
PROTECT YOUR DRAINS, YOUR CABINETS AND YOUR STAFF
Eliminate the Need for Staff to Empty Steaming-Hot-Water Bottles Manually
Prevent Autoclave Wastewater from Melting Plumbing
Prevent Mold, Mildew, Rot and Rust
Non-Electric, Self-Monitoring and Self-Regulating System to Save Time
One Installation and No Additional Service Required
---
Dental Unit Waterline Treatment
From your incoming patient treatment water to your outgoing wastewater, water is a critical part of your practice and key to patient safety. Crosstex offers a suite of end-to-end solutions that keep your patients, staff and practice protected. Crosstex leads the waterline category with a family of products that make DUWL treatment simple, effective, reliable and safe.
---
Sterility Assurance
Our Sterilization products are the ideal way to ensure sterilizer performance by providing the highest level of sterility assurance available, combining mechanical, chemical and biological process parameters. Every load, every day, every week.
---
PPE
Personable Protection Equipment (PPE) is at the heart of any infection prevention program. Crosstex manufactures an extensive portfolio of PPE to meet all your practice needs, including our Made in USA face masks that meet all three ASTM levels. Our award winning, patent pending Secure Fit® Technology fave masks were the first clinical face masks to feature aluminum nose and chin strips that reduce gapping by providing a custom fit for any size or shape face.
---
Nitrous Oxide/Oxygen Sedation
We offer a complete line of nitrous oxide equipment and accessories, and compatible emergency oxygen equipment. Functionally, Accutron systems are built around three basic principles – efficacy, safety and asepsis. Aesthetically, every Accutron system is designed to integrate harmoniously in a wide variety of dental office environments.
---
For more information, please visit www.crosstex.com (please note some listed products are not available in Canada).