DENTAL & ACUTE CARE
Cantel's Dental & Acute Care Business Unit, Crosstex, manufactures a wide array of unique and innovative infection prevention and compliance products for the global healthcare industry and has been a recognized leader and trusted provider for over 65 years. We are dedicated to providing clinical education to ensure our customers are updated with the latest guidelines and best practices.
Crosstex is a recognized leader for its portfolio of waterline treatment, biological monitoring, sterility assurance packaging and personal protection equipment (PPE). Sold in more than 100 countries, the range of products distributed to medical, dental, industrial and veterinary practices and facilities include the award-winning (for 5 consecutive years) Secure Fit technology face masks, DentaPure waterline treatment cartridges, Sure-Check sterilization pouches with internal/external multi-parameter indicators, Tyvek pouches, SteamPlus Type 5 chemical integrators, and ConFirm in-office biological indicators.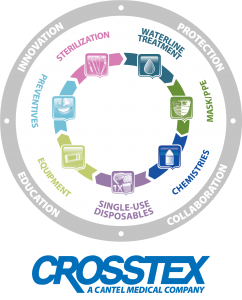 ---
Meet Vistacool™ Direct-To-Drain Cooling System for Autoclave Wastewater
PROTECT YOUR DRAINS, YOUR CABINETS AND YOUR STAFF
Eliminate the Need for Staff to Empty Steaming-Hot-Water Bottles Manually
Prevent Autoclave Wastewater from Melting Plumbing
Prevent Mold, Mildew, Rot and Rust
Non-Electric, Self-Monitoring and Self-Regulating System to Save Time
One Installation and No Additional Service Required
---
DENTAL WATER MANAGEMENT
From waterline treatment to wastewater management, water quality affects nearly every function of modern dental offices. Poor water quality harms patients, staff and equipment - not to mention the reputation of your practice. Our comprehensive line of dental water products can help to improve patient care, staff productivity and practice profitability, while helping to maintain compliance with regulatory guidelines.
---
STERILIZATION
Our Sterilization products are the ideal way to ensure sterilizer performance by providing the highest level of sterility assurance available, combining mechanical, chemical and biological process parameters. Every load, every day, every week. Because You Can't See Sterile™, Crosstex offers world-class biological and chemical monitoring as well as instrument packaging solutions.
---
NITROUS OXIDE/OXYGEN SEDATION
Nitrous oxide/oxygen sedation offers patients relaxed and comfortable experiences. With over 45 years of experience, Accutron by Crosstex provides industry-leading solutions for nitrous oxide/oxygen sedation. The innovative portfolio includes single-use masks, scavenging systems, manifolds, flowmeter systems and associated components.
---
CHEMISTRIES
Crosstex offers a broad range of powerful solutions for cleaning, surface disinfection and instrument reprocessing. Proper reprocessing of reusable devices is critical to ensuring patient safety and avoiding cross-contamination. Cleaning solutions, including high-, intermediate- and low-level instrument and surface disinfectants as well as enzymatic detergents for cleaning sensitive instruments and evacuation lines are among the many products available. Many of these solutions are non-corrosive and pH-neutral, for maximum compatibility with instruments, equipment and surfaces.
---
PREVENTIVES
Preventives are the bedrock of dental care, and clinicians require efficient, ergonomic tools that improve the patient experience. Designed with both professionals and patients in mind, more hygienists choose our Patient's Choice™ Dental Products for preventives that offer superior patient comfort and safety while improving workflow. Efficient, ergonomic and smooth-running prophy angles team up with our our patient-pleasing assortment of fluorides, varnishes and prophy pastes.
---
SINGLE-USE DISPOSABLES
The items that run your practice, such as air/water syringe tips, articulating and occlusion materials and essentials such as HVE tips and saliva ejectors help a practice run smoothly and efficiently. Additional surgical and waste accessories such as scalpels, blades and sharps containers, operatory and imaging barriers, and cottons and non-wovens are essentials to provide your staff with options to meet their needs.
---
For more information, please visit www.crosstex.com (please note some listed products may not be available in Canada).